Omron Safety
Omron has a safety lineup that will maximize safety for your automation line.
Area Scanners, Light Curtains, Safety Controllers, Mats and Relays.
What Are The Most Common Types of Machine Guarding Equipment?
There are 3 major types of machine guarding equipment:
Safety Door Switches — These are required when a machine has a movable guard as access to the dangerous area. Monitoring the door will allow shut off the power when the guard is open or removed.
Electro-sensitive protective device**(ESPE)** — These detect a presence in their protected field and doesn't require any action from the machine operator. There are different types of devices as safety light curtains and safety scanners.
Pressure-sensitive machine safeguarding products — These include safety mats, edge, and bumpers.
What are the Different Types of Safety Switches and What are They Used For?
Monitoring the position of a door or guard is a key element in machine safety. There are 3 major types of door switches:
Tongue-operated Interlocks — These require a dedicated tongue and can prevent easy cheating of the switch.
Guard Locking Interlocks — These prevent workers from entering in hazardous machine areas. They detect whether or not fences or doors are not opened and, if opened, stop machines before operators are injured.
Non-Contact Door Switches — This type does not utilize the mechanical operating method as opposed to the cam operated and/or tongue-actuated switches. As a result, they are unlikely to suffer from the mounting limitation compared to the other switches because of the easy positioning during installation.
What is CIP Safety over EtherNet/IP?
CIP Safety (Common Industrial Protocol Safety) is an extension added to the CIP application layer to provide safety services on CIP-based networks such as DeviceNet and EtherNet/IP. The protocol has been developed according to IEC61508 and ISO 13849:1 and is approved by an independent Notified Body (TÜV).
CIP Safety over EtherNet/IP provides a scalable, modular, network-independent safety protocol that supports multicast messaging for faster response and ensures transmission integrity by detecting errors and allowing devices to take appropriate actions. This protocol is commonly used in systems where there is a need to integrate safety devices from different manufacturers to a single platform, like robots and encoders, to develop a safety solution while reducing wiring efforts.
What is a Forcibly Guided Relay and Where Is It Used?
A forcibly guided relay has a forced guided mechanism that prevents that normally open and normally closed contacts are closed simultaneously. This mechanical link between contact pairs is guaranteed over the whole lifetime. Thanks to this feature, it provides an easy way to design circuits with self- monitoring capabilities, according to international safety standards.
How to Size a Light Curtain
Selecting a specific light curtain size to use can present an unusual challenge in ordering components for a machine. Light curtains are built to a specific height and resolution; as a result, the light curtain has to be very carefully matched to the guarding area to create a safe setup that has no chance of being circumvented.
Sizing
Before selecting a specific light curtain, you should collect measurements of the space where the light curtain will be mounted – both the width and the height of the opening and will be important.
The width of the opening will correspond to the range of the light curtain, and different light curtains will have different effective ranges, possibly even within a single light curtain series. Light curtains with smaller resolutions tend to have shorter effective ranges, and some light curtains may have separate part numbers or different configuration modes for different ranges. Make sure that the light curtain has a larger range specification than the total width the curtain will cover, and bear in mind that using mirrors or similar devices typically decreases the range as well.
The height of the light curtain will correspond to the height of the opening. The optimum light curtain setup will fully cover the opening and prevent anyone from reaching over, under, or around the light curtain, and will also avoid being too large which will only expose the light curtain to potential damage. A light curtain will have two height specifications that are frequently confused with each other; protection height and physical height. The protection height is the area that the light curtain can safely detect, and should be used for selecting a light curtain rather than the physical height, which is the literal measured length of the light curtain components. Select the curtain smallest available light curtain that has a larger protection height than the height of the opening.
Other considerations
One should keep in mind that a light curtain setup might need additional guarding to cover any gaps in the detection. These gaps are frequently referred to as dead zones, and are caused by a number of factors. Some light curtains do not have transmitters and receiver elements that actually run the entire length of the light curtain. If this is the case, the physical height of the light curtains will be larger than the protection area and some additional hard guarding may be required. Brackets, cables, and connectors can have a similar effect.
Industries Best Suited
| | | |
| --- | --- | --- |
| Material Handling | Metal Working | Life Sciences |
| Packaging Industry | Automotive Industry | Cleanroom |
| Logistics | Manufacturing | Food / Bev |
| Palletizing | Arc Welding | Pick and Place |
Omron Configurators
Omron has numerous configurators available that help tailor a product request to your specific need. Listed below is the Safety Light Curtain Configurator, which features variables such as application, height, operating range, and many more.
Learn More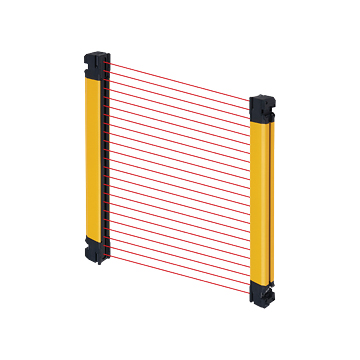 Why Omron Safety?
Omron's comprehensive lineup of machine safety components, from safety logic controllers and light curtains to door switches and stop devices, provide everything you need to protect your team and factory from operational hazards.
Benefits of Omron Safety
The most challenging applications to ensure safety are those where personnel are required to access areas where potentially hazardous operations take place, such as machining, welding, movement of a robot arm, etc. The best safety device is one that offers the maximum protection with minimum impact on machine operations at the lowest possible cost. Our comprehensive line of safety components are engineered to meet your most demanding functional safety needs while preserving your productivity and ensuring your people are safe
Who is Mechatronic Solutions?
Mechatronic Solutions is a distributor of OMRON automation products and solutions for Minnesota, Wisconsin, North Dakota, and South Dakota. We have a team of technical experts on staff to help select the right automation products for your application. If you have any questions or would like to speak with a member of our team, contact us at (763) 447-3407 or fill in the Contact Form.
Feasibility Testing
Proof of concept or feasibility testing is an important part of Mechatronic's approach to providing high quality solutions and exceptional results for our customer's automation projects. Mechatronic Solutions has an experienced team of Application Engineers and an Automation Solutions Center with extensive demo equipment to conduct testing.
Feasibility Testing
MACHINE SAFETY PRODUCTS FROM OMRON
Area Scanners
Light Curtains
Safety Controllers
Safety Mats
Safety Relays
CONTACT MECHATRONIC SOLUTIONS TODAY
Need robotic & collaborative robot (cobot) solutions in Minnesota, Wisconsin, North Dakota, or South Dakota… Call Mechatronic Solutions at 763-447-3407 or fill in the Contact Us form today to work with our application engineers or schedule a demo.