Days Until The 2023 Omron Open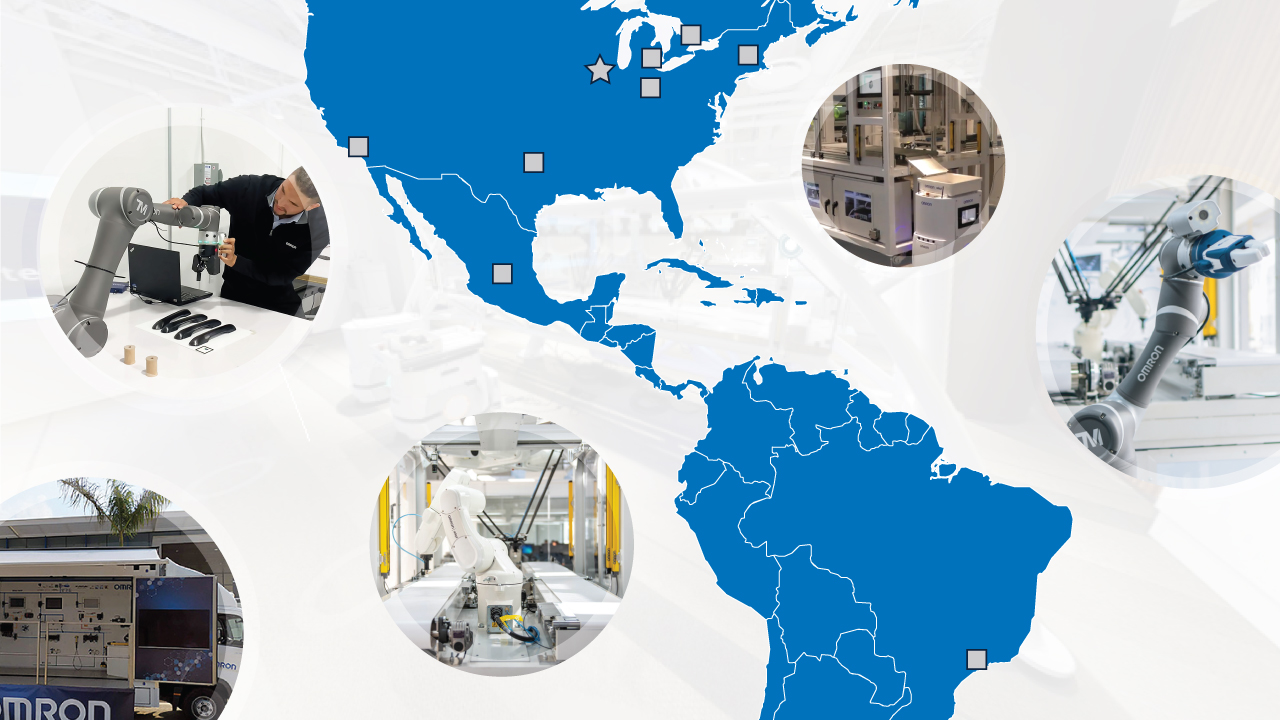 Join us at the annual OmronOPEN event.
This is your chance to stay up-to-date with the latest industry news and network with technical experts.
Omron's lineup of distinguished speakers will share their invaluable insights and expertise on cutting-edge advancements.
It's an opportunity you don't want to miss.  
Date and Time
Tuesday, November 14th
2022 – 8:30 AM CST.
Location
2895 Greenspoint Parkway
Hoffman Estates, IL 60169
What will be Covered?
"Omron OPEN 2023 features over 20 industry relevant sessions across four locations. Interested in a topic not available at your location? We have you covered. All sessions will be available on-demand.
In addition, our Proof of Concept Centers are open throughout the event, featuring interactive demos for a more in-depth look at technologies that span sensing, control, safety, vision, motion and robotics.
We invite you to explore, learn and be inspired. Come share our passion for innovation as we strive to pursue the ideal in automation – where people and machines work together in harmony"
You can expand the topics below to learn more about who and what is being presented. 
Some of the Topics Being Covered!
Is ChatGPT Coming For My Job?
Interactive Tech: Concept Generator
Let's explore the mysteries of Industry 4.0 together. In this seminar we will discuss how Industry 4.0 represents the coming of age of the Industrial Internet of Things (IIoT).
Discover how the use of our products fuels the rise of smarter factories, Big Data and analytics in manufacturing. By replacing unintelligent devices with equivalent smart devices equipped with networks such as Ethernet I/P, IO Link we demonstrate reduction in downtime through preventative maintenance advanced warning, machine troubleshooting assistance data and even a reduction of demands put on existing support staff.
Interactive Tech: Automated Calibration Procedure with the FH Vision System
Calibrating a vision system is an expensive and time-intensive operation that is required every time a vision system needs to perform accurate measurements in real-world units. Here we explore a way to automate this process and show that it is possible to produce accurate measurements using a part of unknown size as a calibration target..
Interactive Tech: PMAC
Omron Delta Tau product overview, capabilities and basic PMAC programming. ODT products such as the CK3M, PowerBrick, and CK3A can be used in applications where traditional Omron motion products may not be suitable. The purpose of the presentation will be to explain the various ways that these PMAC based products can help solve application challenges.
Interactive Tech: NX502 Networking Capabilities
As manufacturers continue to intertwine standard network communications and safety communications on the same networks, Omron has risen to the challenge with the NX502 family of products. By expanding the number of Ethernet ports that a single CPU can support to 10, and greatly expanding the overall number of network connections, manufacturers are now able to tackle large scale projects including large scale
manufacturing lines with a single controller. In this tech talk, we will explore the NX502's networking capabilities, with a focus on CIP safety, including 3rd party CIP Safety connections, and database connectivity.
Elevating Manufacturing: The Analytics- Infused Future Factory
Embark on an extraordinary journey into the forefront of manufacturing innovation with our pioneering initiative, the Analytics-Infused Future Factory. Within this dynamic landscape, analytics assumes the starring role, propelling every facet of the manufacturing process to new heights. Our visionary factory seamlessly merges real-time data from Operational Technology (OT) and Information Technology (IT) sources, crafting
an ecosystem that's both harmonious and adaptable. At Omron, we proudly lead a holistic transformation driven by the industrial internet of things (IIoT). Here, the fusion of education and data-driven insights lays the foundation for lasting IIoT solutions. Our unyielding commitment to the Sysmac industrial
automation platform empowers your teams to engineer solutions that will launch machine performance into uncharted territories. These strides are supported by our dedication to non-intrusive solutions, ensuring a seamless integration process that's as visionary as it is functional.
Inspect the Impossible, Seeing Beyond the Visual Spectrum
How do you solve an unsolvable problem? These types of questions and answers have plagued automation and vision engineers for decades. How do we inspect a cookie that is already inside of a package? Can we utilize machine vision to see if rice has mold to determine if it is safe to eat? How do we remove particulate from the air or from the great cosmos? Solving these problems can lead to safer food, better electronics, and maybe even unveiling the universe like never seen before.
In this session, join Ryan Marti as he reviews some of the most difficult to solve problems in the machine vision and automation world and how we can go beyond our normal visual spectrums to solve problems never before solved in the automation world. Get a firsthand look at how these technologies work, and the methodology used. If you want to see some of the latest and cutting edge technology in machine vision, do not miss this session!
Advancing Human Capital in Manufacturing
In this era of rapidly evolving technology, offering diverse training options becomes essential. Companies can provide technology training, integrating hands-on modules and theory-based learning, with tailored courses for engineers, maintenance professionals, and system designers. Safety training will enhance employee expertise in safety products, ensures proper system maintenance, and demonstrates a commitment to
employee development. By making training available on-demand, in person, or
remotely, companies can provide flexible options for learners in terms of time, location, and training methods. This approach ensures equal access to education. Join Omron Training Services Manager, Liz Lopez, to explore strategies for offering services across regions. This includes researching instructors locally, leveraging their expertise to meet regional and linguistic requirements, nurturing education coordinators, and implementing a global learning management system to cater to customer education needs.
Sysmac Function Block Library revolutionizes Palletizing Solutions
Palletizing poses challenges for manufacturers looking to boost productivity while still ensuring safety and maintaining flexibility. Adding palletizing solutions into existing production lines often presents challenges including lack of in-house expertise, space constraints, and product variation complexities.
The new palletizing Sysmac Function Block Library from Omron has been designed to minimize those challenges by standardizing various components of palletizing applications. This modular approach streamlines setup by reducing development and minimizing complexity, as well as providing long term stability to lower maintenance costs. Leveraging this library along with the Sysmac machine controller family, Omron provides developers a head-start with a robust solution.
Join Omron Automation Engineer James Mortell as he highlights how the scalability and flexibility of this future-proof solution approach empowers manufacturers to adapt to evolving production demands and stay competitive.
Logistics for the Omron Open 2023
This is a Travel/Lodging Expenses paid event thanks to Omron. As such Mechatronic Solutions will be handling the logistics of your travel to and from the event. 
Matt Fowler from Mechatronic Solutions will be your point of contact for travel and lodging. For the most part, all of the flights to and from are based on going from MSP to Chicago O'Hare. 
If those airports don't work for you or if you would like to drive there instead, contact us directly about alternative reimbursements or flight scheduling.
While we can attempt to coordinate shuttles to and from the airport, you may need to book an uber for transportation between the two destinations at your own expense. 
The hotel accommodation will be the Hampton Inn & Suites – Chicago/Hoffman Estates. 
The Omron Open Event is a five-minute walk from the hotel and shuttles to and from will also be included.
If you have any additional questions about these subjects, reach out to Matt Fowler directly at mfowler@mechatronicsolutions.com