The i4L is a compact SCARA (Selective Compliance Assembly Robot Arm) robot that offers strong performance, a flexible design that makes it simple to install and easy to use features that help maximize productivity.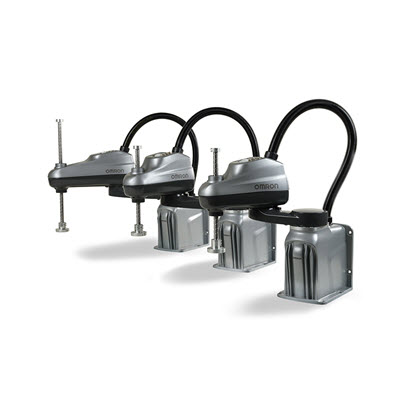 Payload: 5kg
Reach: 350-550mm
Machining, Assembly & Handling
Segment leading performance
The i4L series features high inertia and high duty ratings which are uncommon to lighter duty SCARA robots. Combined with a 5kg payload and a high degree of repeatability, the i4L can tackle more challenging processes with ease and without fear of unexpected faults.
Fast cycle times with high duty ratings ensure sustained throughput performance
Powerful servos motors handle payloads up to 5kg with ease
Advanced and robust industrial design provides years of worry-free operation
Easy to use features that help maximize productivity
Programmed with Omron's renowned "Automation Control Environment" software package (ACE), i4L users can enjoy a powerful yet easy to use suite of programming tools. Menu guided wizards for motion, vision, and process programming make application setup a breeze, and if needed, the open architecture of the eV+ language enables a significant level of customization enabling users to get the most out of the i4L's operation. Interactive maintenance alarms alert users of service intervals and in conjunction with the i4L's high visibility, customizable, multi-colored LED dome light, helps users to diagnose problems more quickly by providing an intuitive, at-a glance visual indication of the robot status.
These features help to maximize productivity by:
Reducing deployment time
Enabling application specific operation
Minimizing unplanned downtime
Simplifying maintenance
Preventing accidents before they happen
Get to work faster with flexible and easy to use installation features
Out-of-the-box, the i4L is ready to be table or wall mounted and offers options for rear or bottom cable routing which provides the installation flexibility to best suit the application need. The controller is conveniently integrated inside of the robot which eliminates the requirement for extra floor space. The i4L is also equipped with standard, built-in connections for communications, I/O and pneumatics making connection to other automation devices easy.